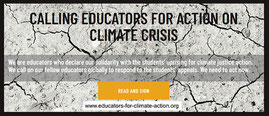 Die Unabhängige Bildungsgewerkschaft UBG unterstützt die Aktion:
CALLING EDUCATORS TO ACTION ON CLIMATE CRISIS
We are educators who declare our solidarity with the students' uprising for climate justice action. We call on our fellow educators globally to respond to the students' appeals. We need to act now.
As you are aware, school students all over the globe have declared a "Climate Emergency". For some time now, they've been striking for immediate and effective action to stop global warming and secure the habitability of our planet. With the UN Summit and the Global Climate Strikes approaching end of this week, it is time to publicly – and collectively - lend them our support.
You can access and sign the Call to Action at www.educators-for-climate-action.org.
The idea for the Call to Action emerged from many conversations among researchers and education practitioners from different disciplines about the need for a collective response to the youth climate strikes. The magnitude and urgency of the challenges we face require collaborative efforts of the education sector to address the climate crisis as our key priority. To advance this cause, a core group of educators drafted a Call to Action, gaining support from more than 150 leading educators as initial signatories from across the world.
I hope that this Call to Action will find broad support among educators and contribute to making the urgent changes to the business-as-usual of education.
Please add your name to the signatory list here.